Textures is a feature and a system that allows graphic designers to change graphical components (such as rooms, items, interface elements etc.) of Club Penguin In your local client. This means other users cannot see the texture, just you.
Since Club Penguin is flash-based and entirely composed of .SWF elements, you simply replace the .SWF with whatever the user desires. This can be used to create custom rooms and items, but also to simulate older versions of rooms, parties, or simply for fun. Most textures are simulations of older parties in Club Penguin.
Textures are stored in a texture.cup file. This file can be opened with an archiving program such as 7-zip. They contain a texture.xml file, and .swf textures. However, the files inside texture.cup are encrypted and cannot be edited. Moreover, attempting to replace or edit these files will not do anything, as they simply will be replaced by the original files whenever CuP restarts.
Textures were In CuP originally, but they were removed to shorten the release time.
Textures were readded in CuP 1.1, but it was only acessible through command line arguments.
As of 6th of July, release of 1.3, Textures are fully available in Cloud Penguin.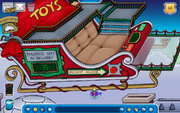 List of Textures
Edit
Note: The status names of textures below are unofficial and may be changed.
For old party textures check TheTexturer.
Incomplete Edit
AWARDS by flip flap15
Kermit Sprite by Sossi
Merry Walrus Party 2014 by Darkstomd
Popcorn Explosion by Jambers
Prehistoric Party 2014 by Vasilis1234(UltimateBeta)
The Great Snow Race by DrNinja
Wilderness Party 2011 by DrNinja
The Great Snow Race by jirkapas
In development/unreleased
Edit