Stadium Hack

Stadium Hack icon
Add-In information
Creator
CPHax2
Status

Verified
Visibility
AuxServer / Server-sided
Latest version
1.3

Date added to the store
8th April 2014

Creator's website
CPHax2 YouTube channel
Stadium Hack is an Add-In, which makes the hockey puck / soccer ball move automatically. The user can set the interval and specific the direction of movement or make it random. In 1.2 update the AuxServer mode has been added.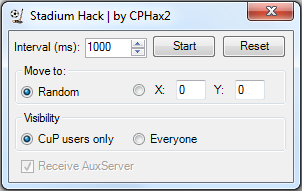 Ad blocker interference detected!
Wikia is a free-to-use site that makes money from advertising. We have a modified experience for viewers using ad blockers

Wikia is not accessible if you've made further modifications. Remove the custom ad blocker rule(s) and the page will load as expected.