Small Coin Adder

add-in icon
Add-In information
Creator
Limit
Status

Removed
Visibility
Unknown
Latest version
1.0

Date added to the store
December 2013
Were you looking for the Money Maker?
The Small Coin Adder (formerly known as the Tiny Coin Adder) is a removed Add-In, which intention was to 'add 150 coins to your account' per go. The instructions state that to use this add-in, go to the Pet Shop, play Puffle Roundup and click the 'Start' button in the add-in. The add-in should normally then give you about 150 coins.
The functionality of this add-in is questioned. It has been reported that this add-in simply causes glitches or does not work at all. In some cases, the instructions were followed, and after closing the game, Catchin' Waves automatically opened and closed, whereafter they lost connection and sometimes CuP gave errors. The add-in has now been confirmed to be patched. The add-in used to give you 250 coins.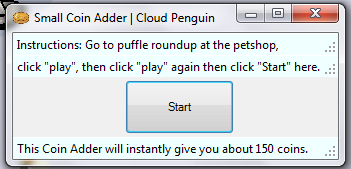 Ad blocker interference detected!
Wikia is a free-to-use site that makes money from advertising. We have a modified experience for viewers using ad blockers

Wikia is not accessible if you've made further modifications. Remove the custom ad blocker rule(s) and the page will load as expected.