Rainbow Penguin

add-in icon
Add-In information
Creator
iNull
Status

Removed
Visibility
Uncertain
Latest version
3.0

Date added to the store
Unknown

Date removed from the store
Unknown
Rainbow Penguin was a rejected add-in by iNull (iCyber). It made your penguin flash in every color (from Blue to Arctic White). In the add-in window, you could specify a number which sets how quickly your penguin would flash colours.
The visibility is uncertain, but most likely server-sided. Players found using this add-ins risk getting banned.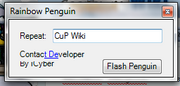 Ad blocker interference detected!
Wikia is a free-to-use site that makes money from advertising. We have a modified experience for viewers using ad blockers

Wikia is not accessible if you've made further modifications. Remove the custom ad blocker rule(s) and the page will load as expected.