Postcard Sender

add-in icon
Add-In information
Creator
CPHax2
Status

Removed
Visibility
Server-sided
Latest version
1.0

Date added to the store
12th March, 2014

Date removed from the store
24th July, 2014

Creator's website
CPHax2 YouTube channel
Postcard Sender was a verified Add-In, which could send any postcard to any penguin chosen by the user. The player that the postcard was sent to, could be specified either by name or ID.
Sending unavailable postcards has been patched after April 30th 2014, when a hacker known as Lolnok (@LolnokCP) used packets to send thousands of offensive postcards to random people. After that, if you tried to send a not-featured postcard, you would be removed from the server (not banned though).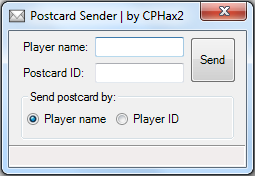 Ad blocker interference detected!
Wikia is a free-to-use site that makes money from advertising. We have a modified experience for viewers using ad blockers

Wikia is not accessible if you've made further modifications. Remove the custom ad blocker rule(s) and the page will load as expected.