Packet Monitor
add-in icon
Add-In information
Creator
MhX
Status

Verified
Visibility
Client-sided
Latest version
0.2

Date added to the store
25th of December, 2013

Creator's website
cpcheats.co
The Packet Monitor is an official add-in created by MhX. It allows users to see the data traffic between Club Penguin and the server. Incoming packets are marked in green, whereas outgoing packets are red. Incoming add-in packets are orange and outgoing add-in packets are purple. There also once was Go Packets for a short time, but it has been removed.
This add-in is purely intended for viewing data traffic, as it cannot be edited. It can be helpful when developing add-ins. It is one of the default add-ins. The icon of this add-in is a Penguin Brain Box.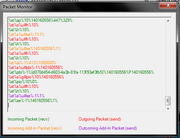 Ad blocker interference detected!
Wikia is a free-to-use site that makes money from advertising. We have a modified experience for viewers using ad blockers

Wikia is not accessible if you've made further modifications. Remove the custom ad blocker rule(s) and the page will load as expected.