Music Manager

add-in icon
Add-In information
Creator
CPHax2
Status

Verified
Visibility
Server-sided / Client-sided
Latest version
1.3

Date added to the store
February 11th, 2014

Creator's website
CPHax2 YouTube channel
Music Manager (previously known as Igloo Music Changer) is an add-in created by CPHax2. It allows members to change their igloo's music by ID (server side). It can also be used to play chosen music in the current room (client side). In version 1.2, new features were added: displaying ID of the currently playing music and disabling the SoundStudio tracks playing in Dance Club (the regular music will be played).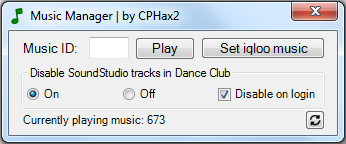 Ad blocker interference detected!
Wikia is a free-to-use site that makes money from advertising. We have a modified experience for viewers using ad blockers

Wikia is not accessible if you've made further modifications. Remove the custom ad blocker rule(s) and the page will load as expected.