Multi-Adder

add-in icon
Add-In information
Creator
Limit
Status

Removed
Visibility
Server-sided
Latest version
1.0

Date added to the store
January 2014 (?)
Multi-Adder is an add-in created by and removed from the store by Limit.
The Add-in
Edit
The add-in adds items, furnitures, puffle hats, etc to your account by entering IDs. Malicious code was found in it, providing a high ban chance. If you try to get bait items with it, you will be banned. Sorry about that.
==Trivia==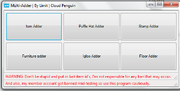 This is an removed add-in.
The icon was a cloud with "Multi-Adder" written on it, reference to Cloud Penguin.
A similar add-in would be Item Adder 2.0 (not to be confused with Item Adder), as it adds item by ID.
It was currently the only add-in that can add puffle hats, reason why this add-in was popular.
Ad blocker interference detected!
Wikia is a free-to-use site that makes money from advertising. We have a modified experience for viewers using ad blockers

Wikia is not accessible if you've made further modifications. Remove the custom ad blocker rule(s) and the page will load as expected.