Money Maker

add-in icon
Add-In information
Creator
CPHax2
Status

Verified
Visibility
Server-sided
Latest version
1.5

Date added to the store
5th February, 2014

Creator's website
CPHax2 YouTube channel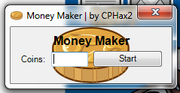 Not to be confused with the defunct Small Coin Adder.
The Money Maker is an add-in with a functionality similar to older standalone Club Penguin Money Makers, like the cpcheats.co money maker.
The user can put in any amount of coins, and the add-in will add them. Large amounts of coins will take longer to add. It is not recommended to add very large amounts of coins (100 000+) to avoid getting banned.