Make a Prompt

add-in icon
Add-In information
Creator
Winderptv
Status

Verified
Visibility
Client-sided
Latest version
1.1

Date added to the store
October 2014
Make a Prompt is an
Add-In
created by Winderptv, and can be downloaded to
CuP
via the CuP Store. Like most of the add-ins, it is verified to be ban-free.
Features
Edit
"Make a Prompt" is an Add-In to allow you to view and edit certain in-game prompts. Every bolded button in the Add-In represents a prompt that can have its message changed. NOTE: The 'Close prompts' button in the Add-In only works for the bolded prompts. The last 3 buttons in the Add-In are AS3 prompts or ones that can not be closed via the 'Close prompts' button.
The add-in has a bunch of messages to edit and manipulate. The features are client-sided.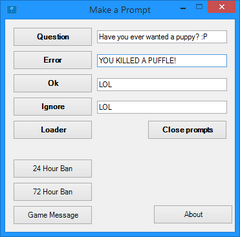 This add-in allows a player to show Interface prompts including "Question", "Error", and others.
2 of the non-bolded buttons are AS3 based prompts.
This Add-In was also done with MhX.
Version 1.0 did not open for some users. Anyone without Visual Studio installed wouldn't be able to run it (This bug is fixed in 1.1).
Version 1.0 (October 19) - Initial Release.
Version 1.1 (October 20) - Fixed a bug not allowing some users to run the Add-In.