Items Editor
add-in icon
Add-In information
Creator
Bicao2009
Status

Verified
Visibility
Client-sided
Latest version
1.1

Date added to the store
January 2014

Creator's website
Blogger
Items Editor is an add-in by Bicao2009. This Add-In replaces your items by any desired item, that is put in by ID. The add-in description states: "Use any item on your penguin. Only you will see edited items."
It can change your head, face, neck, body and feet item. It cannot change your color and flag/pin.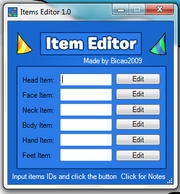 Ad blocker interference detected!
Wikia is a free-to-use site that makes money from advertising. We have a modified experience for viewers using ad blockers

Wikia is not accessible if you've made further modifications. Remove the custom ad blocker rule(s) and the page will load as expected.