Igloo Blueprints

add-in icon
Add-In information
Creator
Bicao2009
Status

Rejected
Visibility
Server-sided
Latest version
1.0

Date added to the store
January 2014

Creator's website
Bicao2009's Blogger
Igloo Blueprints is an add-in created by Bicao2009, and can be downloaded to CuP at the CuP store. It is a part of rejected add-ins.
The Add-In
Edit
The add-in make your penguin to wear the Igloo Blueprints.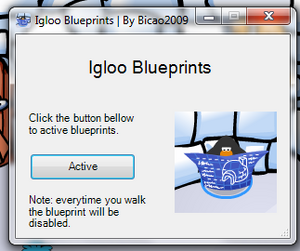 This is a rejected add-in.
You can get banned.
Final version released.
How to use
Edit
Open the add-in.
Click the enable button.
You will see your penguin wearing the Igloo Blueprints.