Empty My Room
add-in icon
Add-In information
Creator
Winderptv
Status

Verified
Visibility
Client-sided
Latest version
1.1
Empty My Room
is an
Add-In
that will allow any player to become the only user in any room (except game rooms). This Add-In is Client-Side which means the player only sees the change.
This add-in allows a player to make any room solo.
MhX has helped in the coding of it.
Hide All Players was very similar to this, but "Empty My Room" fixes the issue Hide All Players had.
Version 1 was rejected due to Server IDs
Version 1.1 Fixed the Server IDs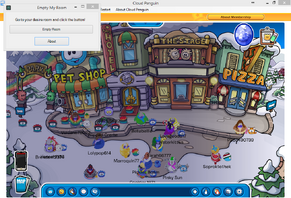 Ad blocker interference detected!
Wikia is a free-to-use site that makes money from advertising. We have a modified experience for viewers using ad blockers

Wikia is not accessible if you've made further modifications. Remove the custom ad blocker rule(s) and the page will load as expected.