Copy Now

icon unavailable
Add-In information
Creator
karl
Status

Removed
Visibility
Server-sided
Latest version
Unknown

Date added to the store
27th December, 2013

Date removed from the store
Between January 1st and 5th 2014
Copy Now was an add-in that could be used to clone your penguin and control all of your clones at the same time. You could even make them say the same things or throw snowballs at the same time to the same point. How many clones you could have is unknown. It could be compared to the FollowBot by CpCheats.co - an earlier cloning/bot program for Club Penguin, that also has been patched and removed.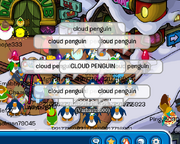 The add-in was short lived. It is said to have only been active for 1 or 2 days and the removal reasons are because karl forgot to convert its code in .NET Framework 4.0.
Ad blocker interference detected!
Wikia is a free-to-use site that makes money from advertising. We have a modified experience for viewers using ad blockers

Wikia is not accessible if you've made further modifications. Remove the custom ad blocker rule(s) and the page will load as expected.