CP Welcomer

add-in icon
Add-In information
Creator
PanV
Status

Removed
Visibility
Latest version
1.0

Date added to the store
19th March, 2014

Date removed from the store
19th March, 2014 (On his timezone 20th March 2014 about 6:30 am)
CP Welcomer was an add-in for CuP. It was just following Asychronee's "Getting Started with Add-Ins" but changed its text from "Hello World!" to "Welcome to Club Penguin!". It was only available for less than 1 day. It is most likely that the sole purpose of this add-in was opening a Message Box saying "Welcome to Club Penguin!" upon entering Club Penguin in CuP. CPHax2 confirmed that this add-in don't work. The icon was made from Carl499.[1].
The add-in never worked, which was the reason for its deletion. It got deleted from PanV.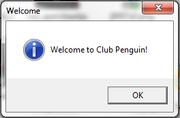 References
Edit
Ad blocker interference detected!
Wikia is a free-to-use site that makes money from advertising. We have a modified experience for viewers using ad blockers

Wikia is not accessible if you've made further modifications. Remove the custom ad blocker rule(s) and the page will load as expected.