Astronomical Party

Texture Icon
Texture information
Creator
JorgeAamelo
Status

Incomplete

Released
6th July, 2014
Astronomic Party is the name of the first public texture made for Cloud Penguin made by JorgeAamelo. The Texture Pack consists of most of the exterior rooms of Club Penguin with the sky changed to a Space-View with planets spread around it. The pack also adds other minor elements as tri-colored balloons around the rooms as well as orange Japanese lamps.
The texture was originally used to test the texture system of the original Cloud Penguin, however, with the major change of plans that would later turn into today's Cloud Penguin the texture was put on hiatus but has recently been put back on work and is planed to be released for Cloud Penguin in a later version when Textures are made Publicly available.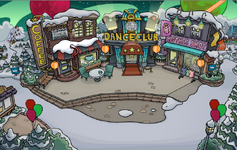 The texture is mostly finished, however, due to some bugs and recent updates to Club Pengun, as well as the desire to add some minor touches, the texture is still rated as incomplete. Their SWFs, are, however, available for public download and use here.
Known bugs, glitches and errors:
Edit
Links are not working on Ski Hill.
Map Teleport and Link issue in Snow Forts.
School Missing in Stadium.
Links not working in Plaza.
Interactions not Working on Puffle Hotel Roof.
Links not Working in Mine Shack.
Map teleport not working in Dojo Exterior.
Interactions, Map Tp and Links not working in Cove.
Some text signs are only displayed in English due to a text breaking bug (the text randomly shuffling between languages)
Ad blocker interference detected!
Wikia is a free-to-use site that makes money from advertising. We have a modified experience for viewers using ad blockers

Wikia is not accessible if you've made further modifications. Remove the custom ad blocker rule(s) and the page will load as expected.